Welcome to Peoria Animal Hospital
Your Veterinarian in Peoria, AZ
Call us at 623-979-3288


Honest, Professional Care Since 1973
Family Owned, Family Operated
At Peoria Animal Hospital, we care about your beloved pets. Offering the latest techniques in state-of-the-art veterinary care and training, we ensure that your pet receives the attention that he or she deserves.
Because illness or injuries to your pet cause stress on you as well, our staff is always prepared to advise and explain all of the available options and follow up care techniques that are recommended. After treatment has been received, your pet returns home as soon as possible to facilitate greater comfort and to quicken the healing process.
All services are available by appointment.
If you live in Peoria or the surrounding area in AZ, then you have picked the perfect site to find a veterinarian. Our doctors are licensed veterinarians, treating all types of pets and animals. Your pet's health and well being is very important to us and we will take every step to give your pet the best possible care.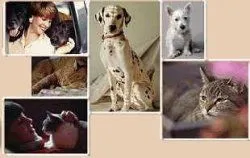 Beyond first rate pet care, we make our clinic comfortable, kid-friendly, and a very calm environment so your pet can relax in the waiting room and look forward to meeting his or her own Peoria veterinarian.
The best veterinary care for animals is ongoing nutrition and problem prevention. If you want to ask a question call 623-979-3288 or email us and we'll promptly get back to you. Our Peoria veterinarian office is very easy to get to, and you can find directions on our Contact Us page.
At Peoria Animal Hospital, we treat your pets like the valued family members they are. Healthy Pet, Happy Vet!!
Thomas M. Satkus III, DVM
Leeann M. Crowe, DVM
Jeanine Snow, DVM
Christin Rowley, DVM